RoIP | Radio over IP Software Engine
RoIP is the integration of VoIP technology in two-way Push-to Talk radio
RoIP can be deployed over private networks as well as the public Internet.
RoIP (Radio-Over-Internet Protocol) is the integration of VoIP technology in two-way radio  networks. Adaptive Digital's RoIP Software Engine enables users to extend their radio connectivity beyond their local network to any device and to anywhere across the globe.
Radio over IP can be deployed over private networks as well as the public Internet.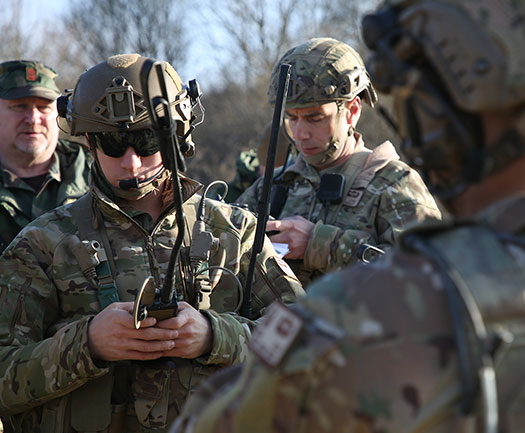 Features:
Half or full-duplex operation under a wide dynamic range of audio levels, even when the microphone input signal is weak
Configurable VOX (VAD) or Push-To-Talk (PTT) operation to start a RoIP transmission
Squelch/Busy Output to indicate RoIP reception
RTP/RTCP
SRTP (Secure RTP) / AES Encryption
G.711 Appendix 1 (Packet Loss Concealment)
G.711 Appendix 2 (Voice Activity Detector / Comfort Noise Generator)
G.729AB
G.723.1
GSM-AMR / GSM-EFR
Adjustable packet size: the engine supports configurable packetization time (10, 20, 30, and 60 msec) in 10 msec increments. The packet size follows from the codec and packet interval.
Automatic Gain Control / Mute
SIP/SIPS/SRTP
DTMF, MFR1, MFR2 Detection and Generation
Call Progress Detection and Generation
Arbitrary Tone Detection
Conference Server/Bridge
Play/Record of Audio Files
API support (management, event monitoring/reporting, statistics)
RoIP Applications:
Interoperability Gateways
Radio Dispatch Systems (military, first responders, transportation, etc.)
In a Radio over IP application, at least one node of a network is a radio (or a radio with an IP interface device) connected via IP to other nodes in the radio network. The other nodes can be two-way
radios, but could also be dispatch consoles either traditional (hardware) or modern (software on a PC), POTS telephones, softphone applications. or some other communications device accessible over IP.
Beyond Line-of-Sight (BLOS) is a radio communications capability that links personnel or systems too far or too obstructed by terrain for Line of Sight (LOS) communications.
Improved reliability.
Increased interoperability between different systems
Generally, RoIP systems use a sample rate of 8000 samples per second and single channel (mono) audio.
RoIP from a system point of view, is essentially VoIP with Push To Talk (PTT).
Radio over IP is useful in land mobile radio systems used by defense departments, public safety departments and fleets of utilities spread over a broad geographic area. 
Economical and reliable distant radio links in the field across large geographies, such as those needed by military units, state troopers, energy utilities, and emergency transportation vehicles are well served by RoIP technology.
Currently Available:
x86_64 and ARM Cortex-v7A and v8A (32-bit and 64-bit) processors
Operating Systems:
Linux, Android, iOS, and Windows
Contact our sales department for details.